Helumbu Panch Pokhari trek lies 70 kilometres northeast of the Kathmandu valley and west of Rolwaling Himalaya in the Langtang region. Panch Pokhari is a pilgrimage site for Hindu devotees where a group five ponds sit at the height of 4462 meters. The area offers a wide range of biodiversity, cultural heritage and unsurpassed beauty.
The beautiful Himalayan range and flawless natural beauty of the Langtang region with an exploration of a different culture are some of the major highlights of this trek. Reaching on the top of Panch Pokhara will offer you with some excellent views of Mount Gauri Sankhar, Jugal Himal, Dorje Lakpa, Langtang Himalayan range, Rolwaling range along with Helambu massive.
Helambu Panch Pokhari trek is the best remote area trek in the Rolwaling region of Nepal. The region is mostly inhabited by Chhetries, Tamangs, and Sherpas. The language, custom, and tradition of Helambu Sherpa are a lot different than those Sherpas living in the Solukhumbu and Rolwaling regions. Helambu is also famous for ancient arts and Thanka.
Lying within the Langtang National Park, Helambu Panch Pokhari Trek is a moderately difficult trek. It involves walking through the beautiful forest of oak and rhododendron with magnificent views of the snow capped mountains and rich Sherpa villages. It is also a newly opened trekking route to the Langtang region of Nepal. The innocent people of the Langtang region will welcome you with warm hospitality.
During the Helambu Panch Pokhari trek, you will get to witness some of the religious and historical sites, caves and beautiful Panch Pokhari lakes, which is the 9th highest wetland in the world. Along the way to Panch Pokhari, you will come across an ancient Haveli (Palace), Dubkhang, where King Kaji ruled over 172 years ago.
Helambu Panch Pokhari trekking starts from a drive from Kathmandu to Chautara. Exploring several small villages, unique landscapes, rivers, waterfalls, and forest of the Langtang region, after about 5-6 hours you will reach Chautara. After exploring the majestic and religious Panch Pokhari, you will follow the route to Helambu trek. The final destination of your Helambu Panch Pokhari trek will be at Chisapani. From Chisapani you will drive back to Kathmandu via Melamchi.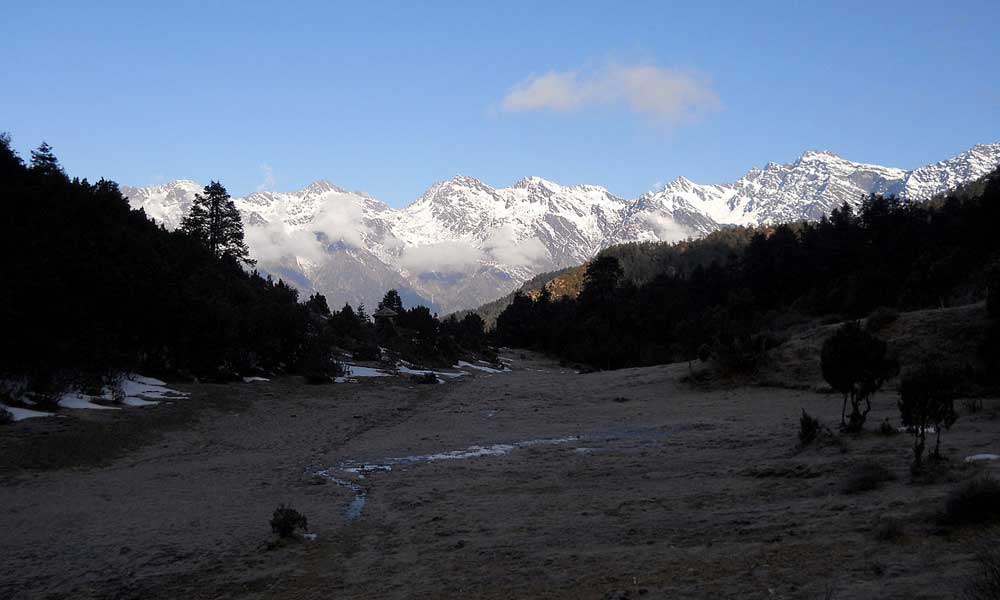 Outline Itinerary of Helambu Panch Pokhari Trek
Day: 01 Drive to Chautara, trek to Syaule (1418m)
Day: 02 Syaule to Kamikharka Danda (2300m)
Day: 03 Kamikharka Danda to Chyochyo Danda (3160m)
Day: 04 Chyochyo Danda to Hile Bhanjyang (3800m)
Day: 05 Hile Bhanjyang to Nasem Pati (3862m)
Day: 06 Nasem Pati to Panch Pokhari (4462m)
Day: 07 Excursion to Panch Pokhari Lake
Day: 08 Panch Pokhari to Gai Kharka (2200m)
Day: 09 Gai Kharka to Yangri (1360m)
Day: 10 Yangri to Langtang Gompa (2800m)
Day: 11 Langtang Gompa to Tarkheghyang (2560m)
Day: 12 Tarkheghyang to Melamchi Gaon(3597m)
Day: 13 Melamchi Gaon to Tharepati (2470m)
Day: 14 Tharepati to Kutumsang (2190m)
Day: 15 Kutumsang to Chisapani
Day: 16 Chisapani to Sundarijal and drive to Kathmandu
Is Helambu Panch Pokhari Trek Difficult?
Helambu Pach Pokhara trek is a moderately difficult hike within the Langtang National Park. The highest point of Helambu Panch Pokhari trek is at Panch Pokhari which stands at the height of 4462 meters from the sea level. It covers a total distance of 70 kilometres. To cover this distance, you will have to walk for about 6-7 hours during the Helambu Panch Pokhari trek.
Many trekkers feel quite difficult when trekking continuously for such long hours. Although the trek may not be a very difficult, it involves climbing uphill and downhill and walking through a steep section through Melamchi Pul.
Altitude sickness may be common when you trek to Helambu Pach Pokhari. On reaching the height of 4462 meters, you might have difficulty in breathing. This is because, in the higher elevations, the amount of oxygen is very minimum making you shortness in breathing. Along with this, there are several other difficulties that come along altitude sickness such as nausea, vomiting, headache, fever, diarrhoea, dizziness, etc. So, if you find yourself in any such difficulty, make sure you descend to a lower height.
The difficulty of Helambu Panch Pokhari also depends upon the type of trekker you are. Trekkers who have conquered the Everest and Annapurna Base Camp treks find this trek quite easy and simple. However, this may not be the case for everyone. Trekkers especially beginners may find Helambu Panch Pokhari Trek difficult and challenging. But, with proper physical exercises, the trek is achievable by everyone.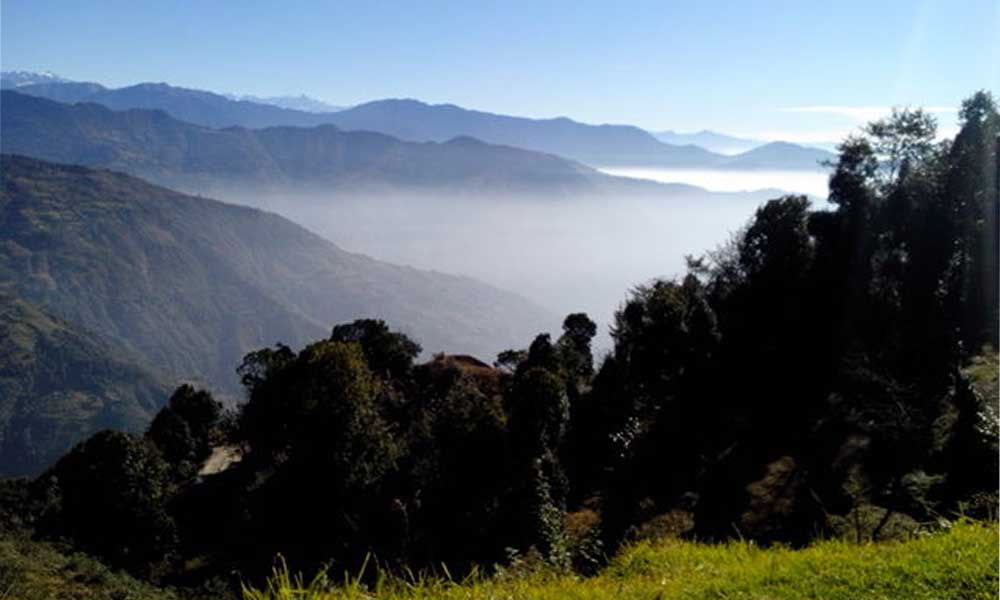 Best Time for Helambu Panch Pokhari Trek
Peak season trek is the best time for Helambu Panch Pokhari Trek. Autumn and Spring are usually considered peak season for trekking in Nepal. Most of the trekkers, be it beginners, as well as experienced trekkers, prefer Autumn and Spring when it comes to trekking.
Autumn ( September, October, November)
When in doubt about choosing the best time for Helambu Panch Pokhari trek, autumn can always be the best option. Autumn is the post-monsoon period in Nepal which falls in the month of September, October, and November.
The average daytime temperature during Helambu Panch Pokhari Trek ranges between 10-20 degrees. The nights and morning may become quite chilly during this trek with a temperature of 5 degrees. During autumn the weather is usually clear giving you great visibility of the majestic Himalayas.
But, be careful when trekking in the month of September. During September, light rain may shower the Langtang region. So make sure you have carried raingear with you when trekking.
During Autumn, the trails to the Helambu Panch Pokhari trek is comparatively busy and crowded. So, you may get yourself a companion who is taking the same route to the Panch Pokhari.
Spring ( March, April, May)
Spring is the king of all seasons. It is one of the most beautiful times of the year for Helambu Panch Pokhari Trek. It falls in the month of March, April, and May where the daytime temperature of Langtang ranges between 10-23 degrees.
On a spring trek, the trekking trail becomes beautiful. It is the time when nature regenerates its lost beauty. Many plants and trees start to grow and flowers bloom. As you trek to the Helambu Panch Pokhari, you will be able to walk through the forest filled with rhododendron. The trekking trail becomes extremely beautiful during this time.
The weather becomes pleasant during the spring season. The snow-capped mountains of the Langtang region look spectacular. Overall, spring offers a favourable climatic condition for Helambu Panch Pokhari trek. If you plan to trek during this season, make sure you pre-book for your food and accommodation.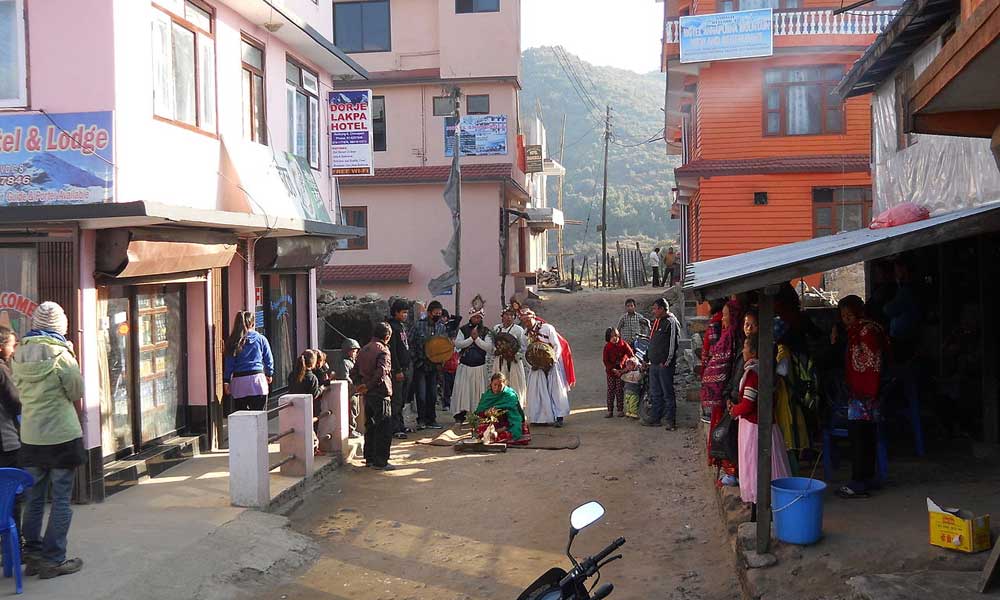 Offseason Trek to Helambu Panch Pokhari
Offseason trek usually refers trekking during monsoon and winter season. Monsoon in Nepal falls in the month of June, July, and August whereas winter falls in the month of December, January, and February.
Monsoon and winter are the least preferred time of the year for Helambu Panch Pokhari Trek. Choosing an off-season trek may add more difficulty. Especially if you are a beginner, you may come up with different problems because of the extreme temperature and unfavourable weather.
Usually, during monsoon, heavy rain showers the Langtang region which becomes a barrier during your trekking journey. Due to the heavy rainfall, the trails to Helambu Panch Pokhari becomes wet and slippery. Walking on the slippery paths may be quite challenging for you.
Likewise, winter in the Langtang region quite harsh. Most of the trails get covered with snow. As a result, walking on a snowy trail becomes a challenge. Along with this, the average daytime temperature of the Langtang region ranges between 6-10 degrees. This temperature may fall to minus during the night.
Food and Accommodation during Helambu Panch Pokhari Trek
Along the route to Helambu Panch Pokhari Trek, you may find very few available teahouse facilities. Such teahouses might get closed during the winter season because of the extreme weather condition.
The teahouses located along the trail to Helambu Panch Pokhari Trek may not provide you with a standard accommodation facility but a basic one which will be enough to make your stay comfortable. Your room consists of a bed, a mattress, blanket, and pillow. Most of the teahouse may not provide you with an attached bathroom and proper toilet facilities. So it is better to bring your own toiletries like toothbrush, toothpaste, toilet papers, etc when you trek.
During the peak seasons, most of the teahouses and lodges get packed. So, you may also have some difficulty in finding an ideal hotel during peak season trekking.
Most of the teahouses in the Langtang region will serve you with proper food to eat. The most common food that you will get would be the traditional Nepali food, Dal Bhat with seasonal vegetable and a pickle. Along with this, you may have some options in the food items such as noodles, pasta, bread and egg, pasta, pizza, porridge, etc along with beverages such as tea, coffee, cold drinks, and alcoholic beverages too.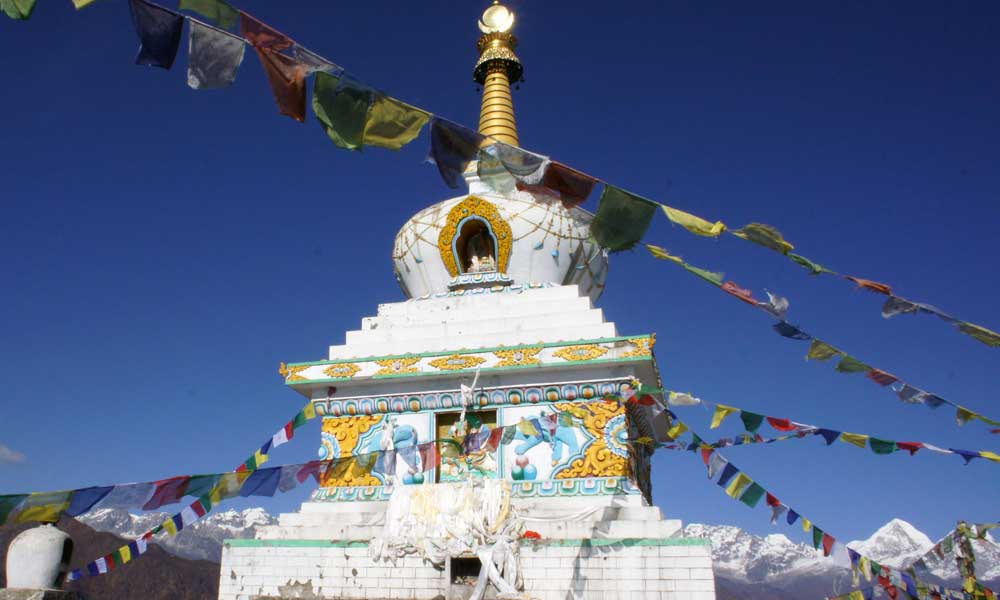 Is Guide Compulsory for Helambu Panch Pokhari Trek
Hiring a guide totally depends upon the type of trekker you are. It may not be a compulsion to hire a guide for Helambu Panch Pokhari trek as it is not a very difficult trek. But hiring would really make your trek easy and comfortable.
Guides have always been trekkers friend. He/she will always be with you throughout your trek assisting and motivating you to move further. There are a lot of benefits that you can get from a guide. They will take you through the right paths and also help you to interact with the local villagers.
Trekking to Helambu Panch Pokhari is also doable alone. But, you have to face the obstacles that come along all by yourself. So, trekking with a guide will gurantee your safety and security.
However, if you are looking for a challenging trek and ready to face any challenges the trek has to give, trekking to the Pach Pokhari without a guide can be a good option.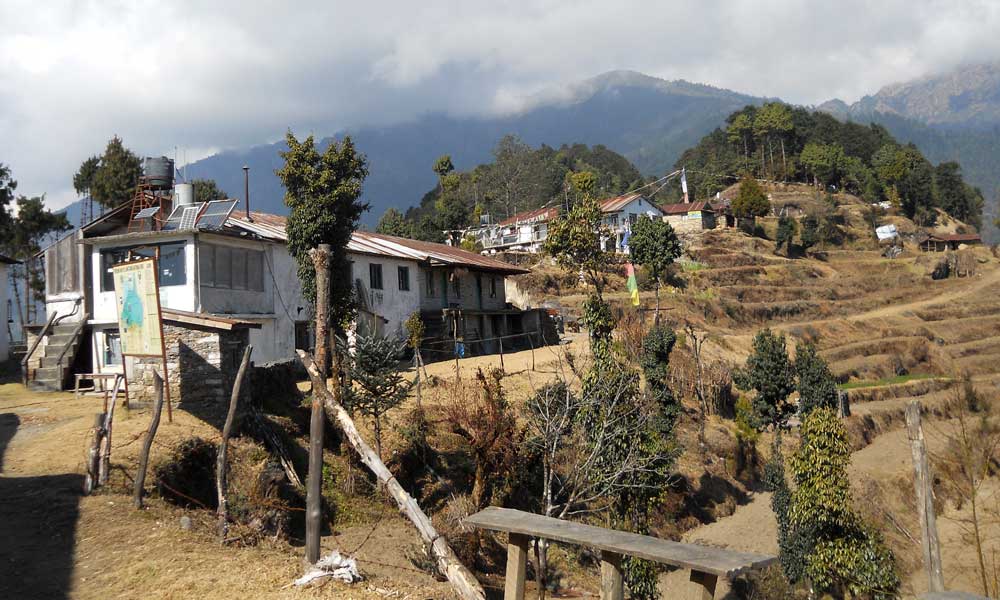 Conclusion
Helambu Panch Pokhari trek can be a good option for the ones who want to explore the beauty of the Langtang region. The trek is easily accessible to everyone with average physical fitness. The trek does not require any sort of technical training and previous experience. Carrying appropriate trekking gear, hydrating yourself, choosing the best time for trekking, hiring a guide, etc can be some of the tips and tricks to make your trek less challenging.
Adventure Bound Nepal provides you with a suitable itinerary for Helambu Panch Pokhari trek. This itinerary can also be re-designed according to your schedule as well. If you want to know more about this trek, you can simply contact us at Adventure Bound Nepal. We promise to make your Helambu Panch Pokhari Trek as adventurous as possible.