Mostly, Langtang Trek is a short and moderate trek that is just a few hours drives from the capital city, Kathmandu. The trek is most famous for glaciers, traditional village settlements, and dense forest. Along with the Everest and Annapurna region, Langtang treks have gained a lot of popularity these days because of its uniqueness and significance.
The trail during Langtang Trek involves downhill and uphill climbs with some steep and narrow ridges. The difficulty level of the trek depends on the topography of the route and the season in which you choose to trek. Usually, Spring ( March-May) and Autumn ( September) will give you an easy time trekking in the region. Whereas, the unexpected rainfall, snowfall, and harsh weather condition during winter and monsoon may result in a difficult trekking experience.
Although the Langtang trek involves walking through the rugged terrains and rocky trails, you can overcome the Langtang trek difficulty. To overcome the possible difficulties that you might face, you need to come prepared physically and mentally with proper packing. Especially, if you are a beginner trekker, choosing to trek during the peak trekking season would be best to reduce the difficulty.
Trek difficulty should not be the barrier if you are willing to overcome the challenges that might come along the way. Difficulties will only make your trek to Langtang region more exciting and thrilling. You do not need any technical training and previous climbing experiences while trekking to the Langtang region. Langtang trek can be an ideal adventure for the ones who are physically fit and ready to trek above the height of 3000 meters.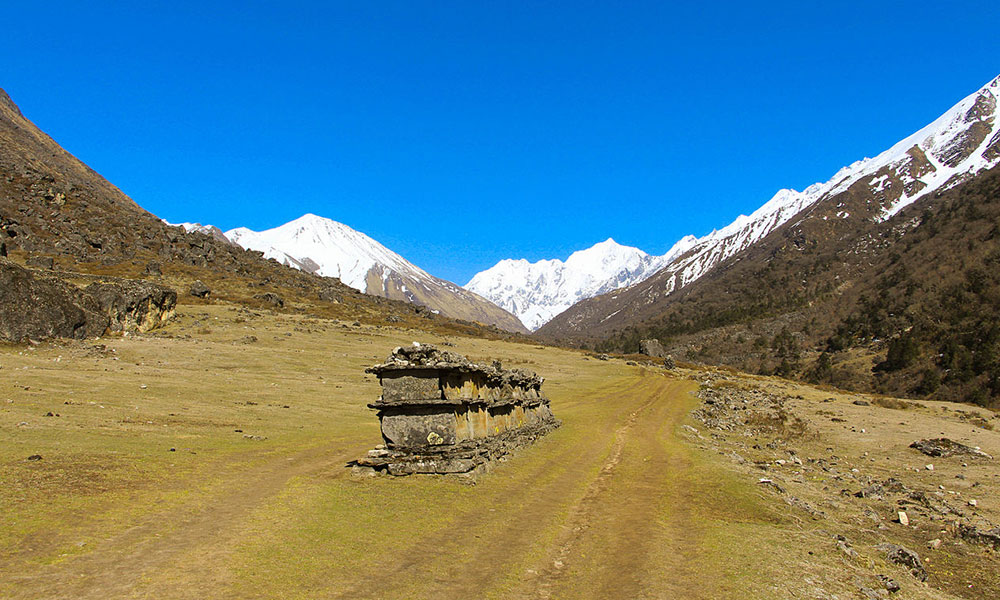 So, if you are brave enough to face any challenges that may come to you, you can join us at Adventure Bound Nepal. We promise to make your trekking experience incredible and memorable.
Popular trekking routes in Langtang region.
Factors for Langtang Trek Difficulty
Langtang Trek Route
The route during Langtang Trek follows climbing uphills and downhills, walking through narrow and steep ridges along with the rugged landscapes. The total distance covered by Langtang Trek ranges between 60-80 kilometers. The average walking duration during this trek is between 6-7 hours per day.
Langtang Trek route starts from Syabrubesi, which sits at the height of 1550 meters. On some parts of the trail, you will have to take steep turns but the rest of the walk is comparatively easy. It takes about 7-8 hours to reach the Lama Hotel. Walking continuously for 7-8 hours straight might be tiring for some people.
The trail follows uphill climb most of the times. To reach the Langtang village, you will have to walk for about 6-7 hours continuously. Kyanjin Gompa is the highest point of the trek that lies at the height of 3900 meters. Walking up to such height might be challenging but the trail offers you with a fair and pleasant experience.
Some of the paths during the Langtang trek might be quite tougher and challenging as it involves rocky and slopey ups and downs. So, you need to be careful while walking in such paths.
Weather and Temperature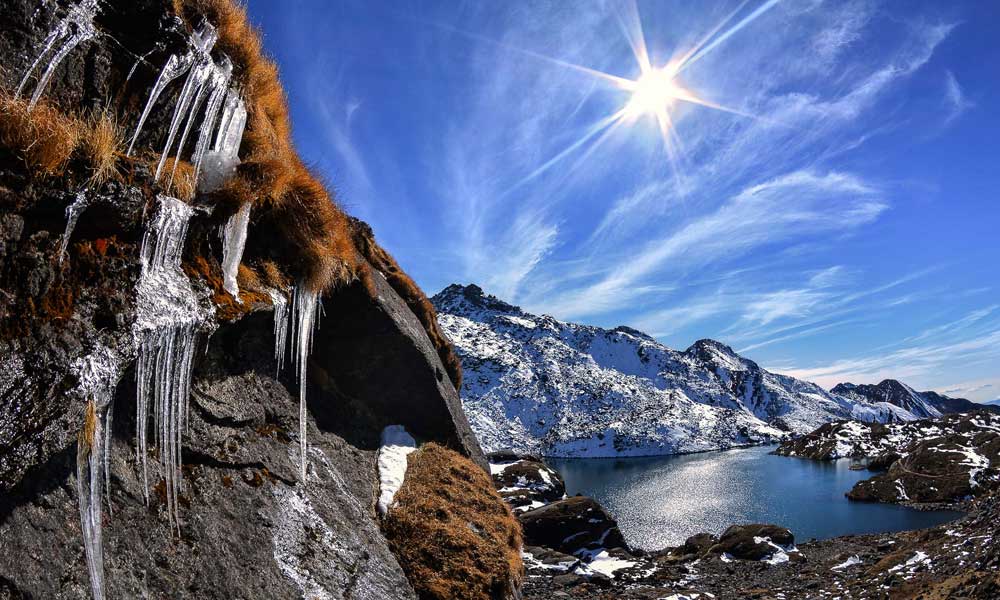 Change in the weather and temperature is one of the major factors for Langtang Trek difficulty. With the change in season, you will experience a change in the weather and climatic variation of the Langtang region. Mostly, people prefer trekking during Autumn and spring seasons to reduce the difficulty that may come when trekking.
During autumn and spring, the weather and temperature of the Langtang region are quite favorable. As it is the post-monsoon and pre-monsoon periods respectively, the chances of rainfall is very low that will help you to avoid some possible difficulties.
During winter and monsoon season the weather and temperature of the Langtang region may not be very favorable. In winter, the Langtang region expects a large amount of snowfall. Most of the trails may be covered with snow which may result in difficulty in walking. The temperature becomes very harsh in winter that ranges between 6-10 degrees and even falls to minus.
Likewise, during monsoon, heavy rain showers the Langtang region. Due to this, most of the trails get muddy and wet. Many trekkers face some difficulties while trekking in such slippery trail as there is a chance of slipping down as you walk. So, due to such reasons, people avoid trekking during monsoon and winter seasons.
Altitude Sickness during Langtang Trek
Altitude Sickness is the major difficulty that people worry when trekking to a higher altitude like Langtang Trek. When you trek to a higher altitude, what happens is, the amount of oxygen in the air starts decreasing. The decrease in oxygen results in shortness in breathing and various other difficulties such as nausea, vomiting, headache, fever, diarrhea, dizziness, etc.
So, during Langtang Trek, as you head towards higher elevations especially towards the Kyanjn Gompa, you may face the difficulty of altitude sickness. As Kyanjin Gompa lies at the height of 3900 meters, chances of getting altitude sickness might be common. But, don't worry. Most of the people might not face this difficulty. If you do, make sure to descend to a lower height immediately.
In order to reduce the problem of altitude sickness, hydrating your body is very necessary. So, while trekking to the Langtang region, drink plenty of water and keep your body hydrated.
Physical Fitness
As you know that Langtang Trek is a moderate trek and does not require any technical training but remember, you may require some sort of physical fitness. Becoming physically fit means having a sound mind and body. Mental fitness also plays a great role when trekking. Mental attitude allows you to relax and enjoy your trekking journey.
Physical fitness is likely to build your confidence and motivate you to move further. It is noted that most of the people who were physically fit were committed to trek ahead and achieved some of the most difficult treks successfully. So what I want to conclude is that physical fitness plays a great role in making your Langtang Trek successful.
Similarly, for some someone who is physically fit and have some trekking experience too, Langtang trek may not be a problem for them. You can easily pass some of the most difficult paths if you are physically fit and is used to trekking to higher altitudes. However, if you are do not have average physical fitness and is not used to walking for long hours at all, this trek may be difficult for you.
So, some physical exercises before starting your trekking journey would help you a lot to avoid certain difficulties that may come across. Engaging in activities such as running, cycling, jumping, jogging, swimming, etc three weeks before your trek would help you a lot during your trek.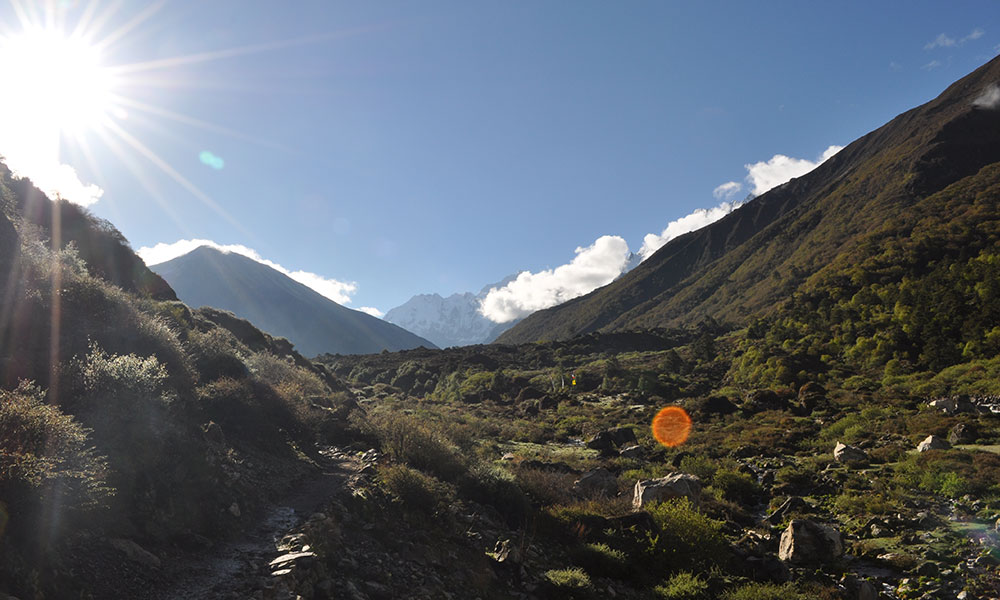 Langtang Trek Difficulty without a Guide
You might be wondering if Langtang trek is possible without a guide or not. So, my answer would be yes. Langtang trek is not only possible without a guide but also can be a good alternative for the ones who want to have a solo trekking experience.
I have seen many people trekking independently to the Langtang region and returning successfully. Throughout the trail, you may always meet fellow trekkers who are following the same route to the Langtang region. So, this means you will always have someone with whom you can share the same route.
So, if you are an experienced trekker and courageous enough to face all the challenges that might come all on your own, trekking without a guide may not be a problem for you.
However, trekking to the Langtang region with a makes the trek less difficult. Having someone throughout your trekking journey guarantees your safety and security. You will always have someone with whom you can share your problem and experiences. With of a guide, you will have to face fewer challenges. You will not have to worry about your food and accommodation during your trek. He/ she will find you with an appropriate teahouse for your comfortable stay. In this way, you will not have to hassle all by yourself the search a decent lodge to stay in.
Similarly, there are different twists and turns and uphills and downhills that you will have to take during your Langtang trek. Crossing all these paths all by your self may be difficult. In this case, your guide will act as a source of inspiration. He/she will motivate you to move further and does not let you give up.
So, trekking alone to the Langtang region may be difficult for beginner trekkers as they will have no knowledge regarding trekking. From such people, Langtang Trek may be difficult without a guide.
Tips to reduce Langtang Trek Difficulty
There are several difficulties during the Langtang trek that you may have to face. But, all such difficulties and challenges can be minimized if you follow certain rules and tips. Here are some of the tips that you need to follow to make your Langtang Trek less difficult.
Choosing the Best Time for Trekking
Before you start your trek, plan for the appropriate season that you will be trekking. Usually Autumn and Spring can be a good option for Langtang trek. Autumn falls in the month of September, October, and November whereas Spring falls in the month of March, April and May.
Both autumn and spring offer trekkers with a very suitable and pleasant environment for trekking. The weather and temperature of the Langtang region range between 15-20 degrees during this time which is very bearable for trekkers.
But, autumn and spring may not be the best time to trek in Langtang for the ones who are seeking for a peaceful trek as during these seasons the trekking trials become crowded.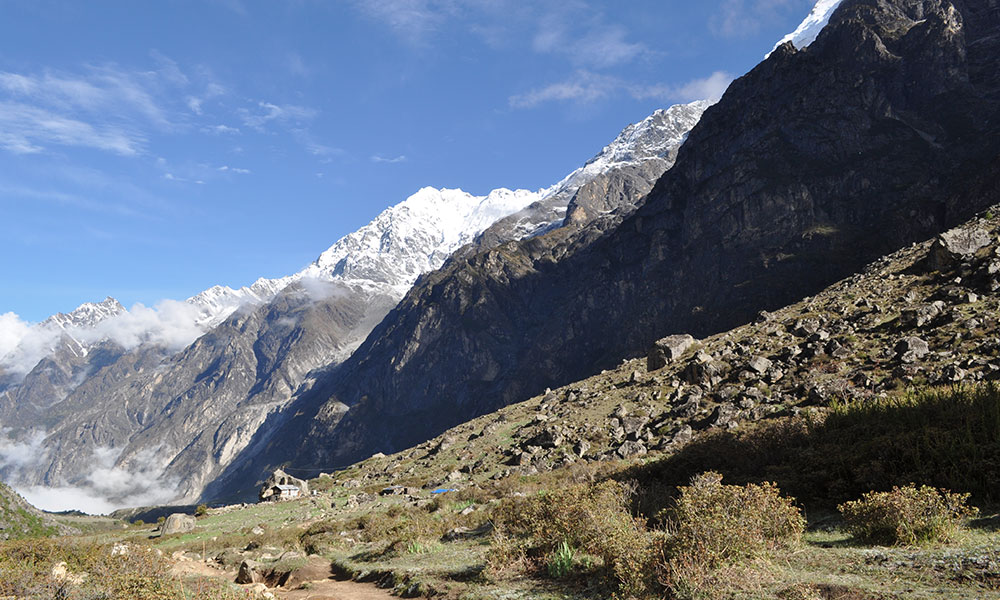 Engaging in some Physical Exercise.
Technical training may not be necessary during Langtang trek but physical exercise is very important. Engaging yourself in some sort of physical exercises three weeks before your trek will make you physically fit and active.
Develop a habit of running, swimming, cycling and jogging to gain your physical strength. A short hike around the hills near your area would help you and make you less tired on the first day of your trek.
Carry appropriate Trekking gear
Packing is one of the most important things to do before your trek. It might be frustrating sometimes but carrying appropriate trekking gear will only make your trek easy and comfortable. A comfortable hiking shoes are very important for protecting your feet. Likewise, a good pair of hiking socks and a fleece jacket will keep you warm while trekking.
So, pack only such items that you will need. Do not carry unnecessary items that will only increase the load of your backpack.
Eat healthy foods and Hydrate Yourself
Protein is very important when trekking that will give you energy. Make sure you eat plenty of green vegetables, meat, cheese, beans, etc when you eat. Likewise, hydrating your body will energize you keep you moving. Drink water as you walk or you can take some few breaks along the trail and drink water.
Conclusion
So, Langtang Trek is a moderate trek that is doable by everyone with a basic health physical fitness. No technical training or previous trekking experience is required for this trek. However, it would be a lot easier if you engage in some physical exercise before the trek to make your trekking experience less difficult and more comfortable.
Adventure Bound Nepal will help you to tackle such difficulty by providing you with a well-experienced guide. If you have any questions regarding your trek to the Langtang region, do not hesitate to contact us.