Langtang sits in the northern part of Nepal which is just a few kilometers drive from Kathmandu. Langtang valley trek is a trek that is rich in biodiversity along with Sherpa and Tamang culture. The trek will take you to some of the fine villages inhabited by Sherpas and Tamangs. The trek is popular for Langtang ranges such as Langtang Lirung, Dorze Lakpa Jugal Himal, and various other mountain peaks that are above 6000 meters.
The region is influenced by Tibetan culture and you can see many monasteries throughout the trek. The trek starts at Suryabesi taking you to different villages of Langtang and the final destination is at Kyanjyang Gompa. Langtang National Park is one of the main highlights of the trek. Along with this, the trek will give you an opportunity to witness the rivers, waterfalls, glaciers, mountains and overall natural beauty of the Langtang valley.
Langtang trek in October is preferred by most of the trekkers both inside and outside the country. Langtang valley trek in October will take you to the heart of magnificent mountains and the lush jungles inhabited by different flora and fauna. Overall, October offer you with a pleasant climate which is very suitable for trekking. Major festivals of Nepal such as Dashain and Tihar falls in October, so you can be a part of these festivals if you want to.
Langtang trek in October with Adventure Bound Nepal will be exciting than ever. Your itinerary can be managed according to your choice. We will provide you with proper guides and facilities before your trip. Join us for a lifetime of experience to Langtang in October.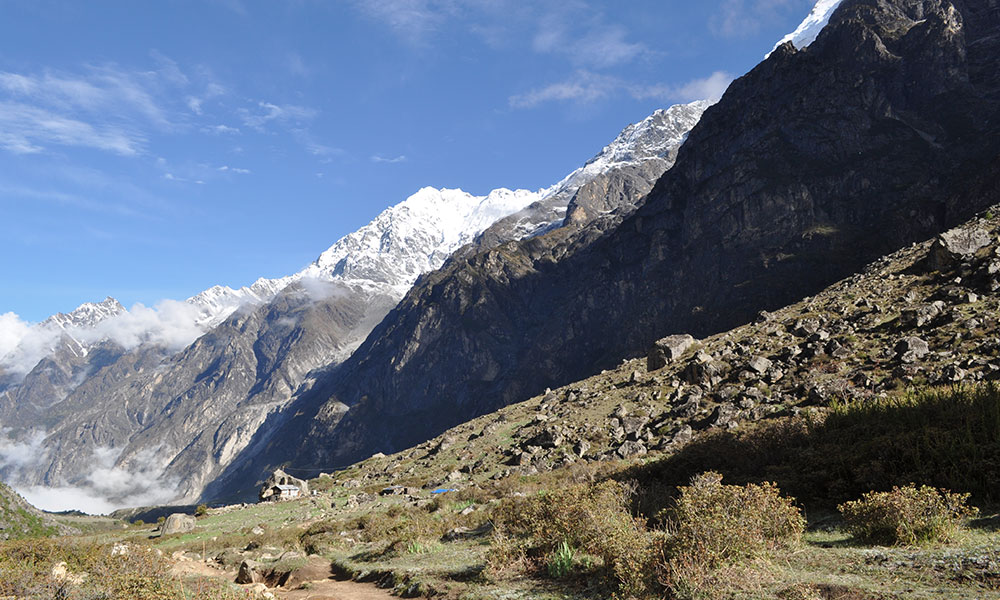 Trip Highlights of Langtang Valley Trek in October
Favorable weather and temperature of Langtang during October.
Clear scenic view of the region.
Magnificent mountain views of the Langtang range during October.
Get a chance to be a part of major festivals such as Dashain and Tihar during October.
Outline Itinerary of Langtang Valley Trek
Day 01: Arrive at Kathmandu International Airport.
Day 02: Drive from Kathmandu to SyabruBesi (1600m).
Day 03: Trek to Lama Hotel (2470m).
Day 04: Trek to Langtang village (3430m).
Day 05: Trek to Kyanjin Gompa (3870m), then climb KyanjinRi (4773m), and back to Kyanjin Gompa.
Day 06: Trek to Lama Hotel (2470m).
Day 07: Trek to SyabruBesi (1600m).
Day 08: Drive back to Kathmandu.
Day 09: Final Departure.
Weather and temperature of Langtang during October
October is one of the peak times of the year for Langtang trekking because of the favorable weather and temperature it offers. October offers trekkers with a good trekking experience as the weather and temperature of the Langtang region becomes pleasant during this month.
The daytime temperature of Langtang region range between 10 to 18 degrees in the month of October. Whereas, the nighttime temperature range between -10 to -1-degree Celsius. The lower elevation of the Langtang region is comparatively hotter than the higher elevation. So, treks like Helambu trek and other lower altitude trek might have warmer weather condition. The temperature at Llaurebena Pass might be quite chilly as it stands at an altitude of 4610 meters. The temperature may range between 1- 5 degrees during the daytime and falls to minus during the night.
During October, you may not have to face the problem of rainfall as it is the post-monsoon period. The skies are usually blue due to which you will have clear visibility of the Langtang Ranges. They look magnificent during this month.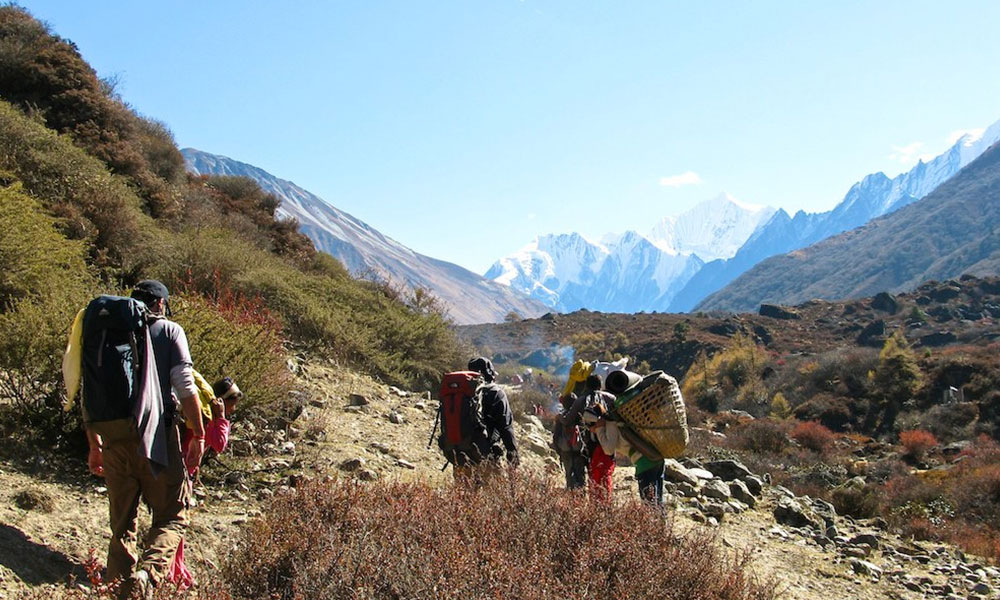 Langtang Valley Trek Difficulties during October
Langtang trek is a moderate level trekking destination in Nepal. You may not need any proper technical pieces of training or previous trekking experiences before you trek to the Langtang region. However, it would be easy for you if you have some trekking experience.
October provides you with the best weather and temperature of the Langtang region which plays a great role in making your trek easy and comfortable. The only difficulty you have to face when trekking during October is the availability for food and accommodation.
October is one of the peak times of the year for trekking to the Langtang region. During this time you can see numerous trekkers trekking to the Langtang from all around the year. So, most of the teahouses, hotels, and lodges get packed easily. Because of this reason, you may have to face the difficulty of accommodation. Along with this, you may have to wait in a lot queue for food facilities and even share your rooms as well. So, if you are trekking to the Langtang region in the month of October, early registration for food and accommodation is very important to avoid such difficulty.
Langtang Trek with or without a Guide in October?
Many trekkers have questions regarding whether to hire a guide or not when trekking to Langtang. The answer is, it depends upon the type of trekker you are. If you are someone who is very new to trekking, I would recommend you to hire a guide when trekking to the Langtang region. Solo trek to Langtang may be difficult especially for starters. You may not know the routes and the paths that you have to take.
However, the Langtang valley trek is also possible without a guide. If you are trekking in a group of people, trekking without a guide may not cause you any problems. The trek follows the Langtang river throughout the trails so you may not have a chance to take the wrong turn to Langtang.
So, it is up to you and your budget for the trek, that is enough to hire a guide. It is always better to hire a guide as you can get a lot of benefits from the guides.
Food and Accommodation during Langtang Trek in October
Food
You do not have to worry about your food during Langtang trek as most of the teahouses are opened in October. You will come across several teahouses, lodges, hotels, and restaurants throughout the trails of your trek. Such teahouses and restaurants will provide you proper and delicious foods.
The most coom foods that these teahouses provide are local Nepali foo which is Dal Bhat and Tarkari. It comes with a set of rice, vegetable curry, meat, pickle, and even curd as a desert. Along with this, you will be served tea, coffee, boiled eggs, bread and pancakes as your breakfast. You can find some international cuisine as well such as pizza, sandwiches, burgers, pasta, noodles, etc. you can find varieties in your drinks as well, from soft drinks to alcoholic drinks.
Accommodation
On your trek to Langtang, you will stay in teahouse accommodation. That will provide you with facilities such as bedrooms, attached bathroom, hot showers, wifi, charging facilities, etc according to the type of teahouse you choose.
In the Lower region of Langtang, you will have a twin bed sharing and some of the teahouses may not have the facility of attached bathrooms. As you trek to Syabrubeshi, the accommodation is quite standard with proper facilities. The accommodation becomes basic as you trek higher to the Langtang region.
October falls during Autumn season in Nepal which is one of the peak seasons for Langtang treks. So, remember to book for your accommodation as early as possible to avoid sharing rooms.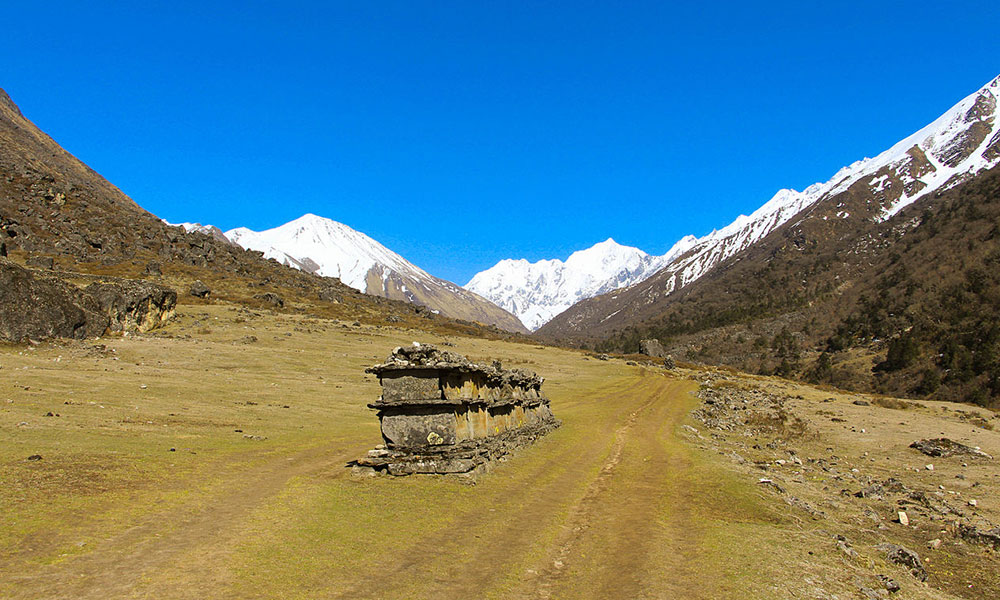 Tips for Langtang Trek in October
Proper Physical exercises
It is very important that you do some physical exercises before trekking to Langtang. Some of the physical exercises such as swimming, walking, cycling, etc will help you to prepare for the trek. You have to prepare yourself physically as well as mentally before your trek.
Carry Appropriate Trekking Gears
During October, the temperature of the region is quite warm. So, you may not have to carry thick and bulky clothes with you. Carry some light items and warm clothes with you when trekking to Langtang in October.
Walk Slowly
The key to successful trekking experience is walking slowly. When trekking to Langtang, make sure you walk slowly and steadily. It is not good to rush when trekking. Rushing your way to reach the destination can cause some minor accidents. So it is always better to walk slowly.
Keep Yourself Hydrated
Hydrating is very important when trekking. It will keep you energized and motivated to walk further. When trekking, take small breaks between your trek and drink water. When trekking to a higher altitude, your body dehydrates. So, carry a water bottle during the trek and drink plenty of water.
Packing list for Langtang Trek in October
Packing is very important when it comes to trekking. Carrying trekking items according to the weather and temperature of October in Langtang will really save your time as well as energy. Some of the packing lists of Langtang Trek in October are as follows:
Clothing
Hiking boots
Hiking socks
Trekking trousers
Cotton T-shirts
Fleece jackets
Down jackets
Sweater
Windcheaters
caps/ hards
First Aid Kit
Carrying First Aid Kit will help you cure some minor injuries that may occur throughout the trail. So, it is always better to carry a First Aid kit with you when you trek. Here are of the things that first aid box should contain.
Antiseptic creams
Antibiotic gel
Bandages
Scissors
Diamox tablets
Vicks vapor rub
Tweezers
Toiletries
Toilet papers
Cotton towels
Toothbrush
Toothpaste
Shampoo
Soap
Moisturizers
Others
Sunglasses
Sunscreen
Hand sanitizers
batteries/ chargers
Sanitary pads/ tampons
Camera
Water bottle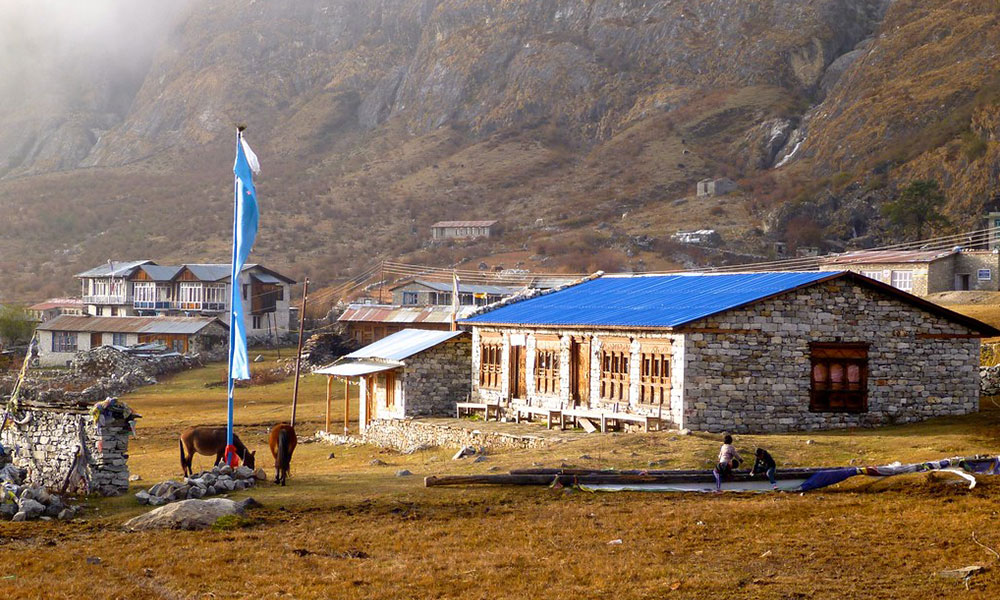 Conclusion
Langtang is a region that is rich in biodiversity and culture. Langtang trek will give you a chance to walk through the alpine forest which is covered with rhododendrons. October provides suitable weather and climatic condition for Langtang treks so you do not have to worry about the unfavorable weather condition of Langtang in October.
Adventure Bound Nepal is a Travel company that has been serving its customers efficiently. So, if you what to have unique trekking experience to Langtang, contact us at Adventure Bound Nepal. Call us if you have any confusions regarding your trip. We can customize your trip according to your choice if you want to. Do not hesitate to contact us. We will be happy to serve you.