You are trekking somewhere shouldn't necessarily mean you have a very large amount to spend there. Sometimes, you have some money with you and you still want to trek. If that happens, is Langtang a suitable place to go on budget trekking? Let's find out.
Langtang valley is a beautiful valley close to Kathmandu, the capital city of Nepal. Enriched with nature and culture, Langtang region makes a beautiful trekking destination. Now, how much will it cost for Langtang trekking?
Well, talking about cost, Our followiing 10 Days Langtang Valley trek will cost you $680. But, if you need a customized itinerary, Langtang trekking cost may vary.
There are a few things such as How many days are you spending on the trek? When are you going? What services would you prefer for accommodation, foods, and others while trekking? Are you going alone or you're hiring a guide and/or a porter. Do you prefer this or that?... shall determine how thinner your wallet is going to get.
Apart from these, there are few things like the trekking permit fees that you cannot ignore. One thing that you should keep in mind is you are going to a remote area. Everything is going to cost more than in the cities. And, they are going to charge for every services and facility they offer.
Load your wallet with a cache of money. After all, it's your money. You can bring it back if you won't need to spend all of it there. It is always good to bring a good amount, like slightly more than you will actually spend.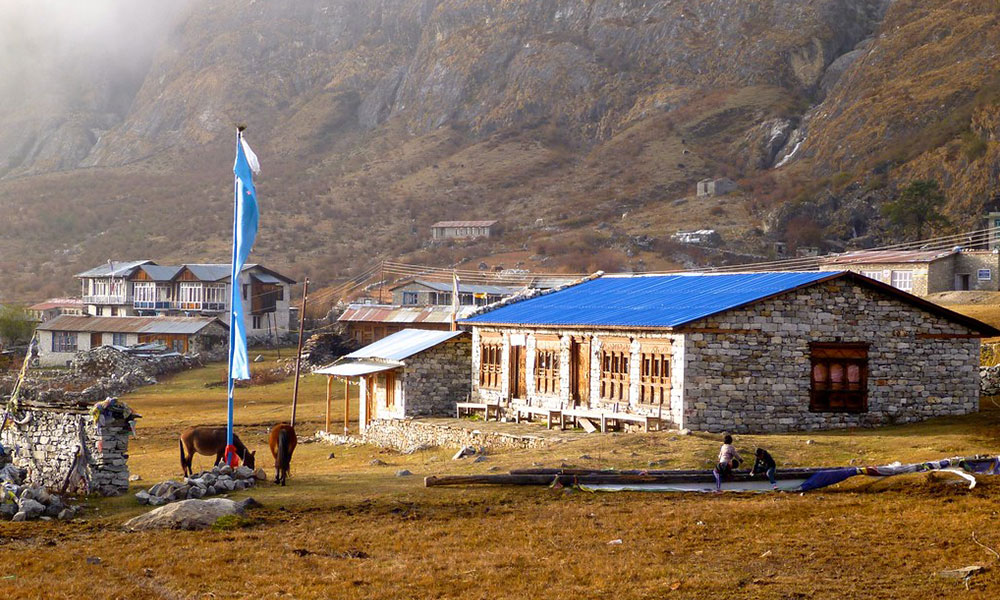 Outline Itinerary of Langtang Valley Trek
Day 01 :Arrive at Kathmandu International Airport.
Day 02 :Drive from Kathmandu to SyapruBesi (1600m). 7 - 8hrs
Day 03 :Trek to Lama Hotel (2470m). 6-7 hrs
Day 04 :Trek to Langtang village (3430m).5-6 hrs
Day 05 :Trek to KyanjinGompa (3870m) 3-4 hrs
Day 06 :Hike up to Tsergo ri (4985m) and back to Kyanjin Gompa. 5-6hrs
Day 07 :Trek to Lama Hotel (2470m) 5-6 hrs
Day 08 :Trek to SyapruBesi (1600m) 5-6 hrs
Day 09 :Drive back to Kathmandu. 7 - 8hrs
Day 10 :Final Departure.
How long is your Langtang Trek Itinerary?: Langtang Cost
Depending on what you choose to see in Langtang region, your trek duration varies. Treks in Langtang can last from7 (Langtang Valley Trek 7 days) to 15 (Gosaikunda Trek) days. The Langtang Valley trek, Helambu trek, and Tamang Heritage trail are short. However, treks like Ganja La Pass trek are longer treks.
Longer your trek, the more will the trek cost be. All costs, like accommodation, food, guides, porters, and others will increase with an increase in the number of days.
Does Langtang Trek Cost Vary with Trekking Season?
Before deciding to trek in Langtang, you should know the best time for Langtang trekking. Autumn (September, October, and November) and Spring (March, April, and May) are the most popular time of the year for trekking in Langtang.
During peak seasons, the teahouses and lodges charge higher costs for food and accommodation. Also, they will charge higher prices for extra services. The extra services are mobile charging, hot shower, laundry, wifi, and others.
On contrary to this, during off seasons (summer and winter), the prices for food, accommodation, and other services are less. At some of the lodges, they provide special discounts to their off-seasonal costumers. Some provide extra blankets and hot water in winter for free.
So yes, trekking cost in Langtang can vary for different seasons.
Cost of Accommodation, Food, and Drinks on Langtang
Accommodation Cost
Langtang trek is a tea house trekking route in Nepal. You will find different teahouses and lodges on the trek route. You can stay at the teahouses. They provide good services and facilities for accommodation.
In general, one-night accommodation costs $3 to $7, if you are eating at the place you are staying. If you choose to eat somewhere and seat somewhere, they will charge you from $120 to $150.
Trekking from lower regions to higher regions, will there be good accommodation everywhere? Will the services at higher places be as good as in the lower regions? What do you think?
The higher places are more remote than lower ones. The topology is difficult and tough as you trek to higher places. As a result, transporting goods to and from higher altitudes are difficult than you think. So, accommodation facilities are basic at higher places as compared to lower ones.
Teahouses will be basic. You will share a common bathroom that is generally outside the teahouse. If you are trekking in peak seasons, you should do an early booking for accommodation. Else, you might not get place for overnight stay. You might also have to share your room with a fellow mate.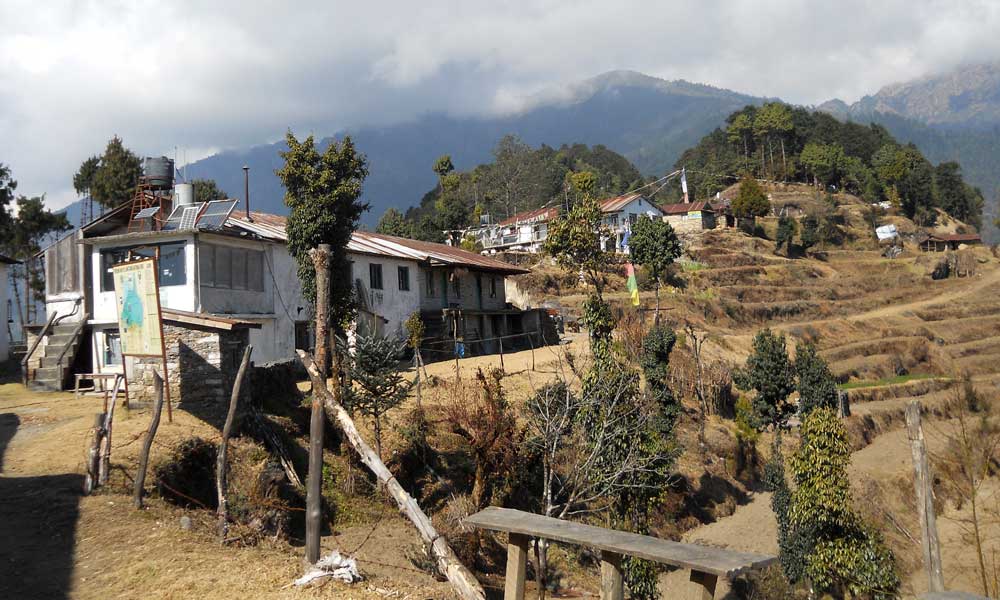 Food and Drinks Cost
At most of the teahouses in Langtang trail, you can have meals, breakfasts, snacks, and drinks. You can have a variety of foods from the food menu they offer. Like accommodation, the cost of food also increases with altitude. In fact, it gets almost doubled.
At lower altitudes, you can have a full meal for $3 to $7 on average. At higher altitudes, you might have to pay $6 to $10 for the same food. Also, the food menus get shorter at high altitudes.
For drinks, you can have various soup items, bottled water, canned juices, beer, and other beverages. The juices also cost more as you ascend towards higher altitudes.
You can also buy snacks at the teahouses. Sometimes, you will see local vendors selling fruits. You can also have them (for a higher price than you expect). If possible, bring the light snacks, chocolates, energy bars, protein bars on your own. Would you want to spend a greater amount of buying things that you can easily carry? Well, it's solely your choice.
Langtang Trek Permit Costs
You cannot trek to Langtang valley unless you get your trekking permits. It is illegal to trek without trekking permits. There are various checkpoints en route where you should verify your permits. They'll charge fines or will not allow you to go further if you don't have the permits.
Get these two special permits before you trek to Langtang:
TIMS card and Cost
TIMS (Trekker's Information Management System) Card costs USD 20 per person.
Langtang National Park Entry Permit and Cost
You need this permit to trek inside the boundary of Langtang National Park. This permit costs USD 30 per person.
You can obtain these permits at the Nepal Tourism Board in Kathmandu. If you need help, we can arrange your trekking permits. All you have to do is send us the necessary documents.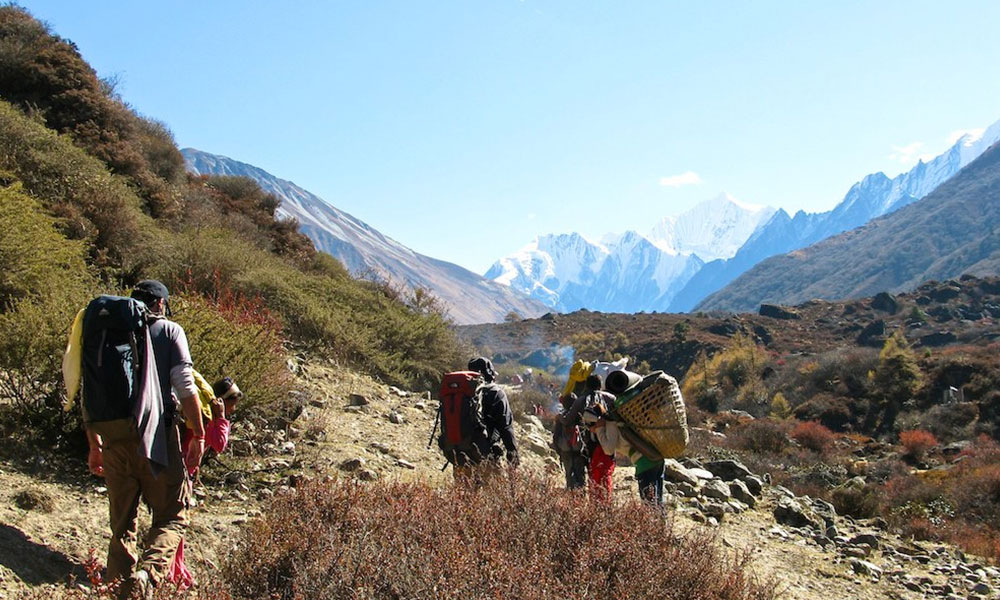 Cost of Transportation to Reach Syabrubesi; The Starting Point
During Langtang trek, you will ride from Kathmandu to Syabrubesi via roadways. Apart from being long, the road journey is exciting and beautiful. You will ride across beautiful terraces, cultivation, villages, and Trisuli valley.
You will have several options to travel to Syabrubesi from Kathmandu. You can go by:
Local buses
Traveling by local bus is the cheapest option. The bus ride costs USD 3 per person one way.
Tourist buses
If you want to travel on a tourist bus, you can. They have comfortable seats, are more clean, and comfy than local buses. The cost of traveling from Kathmandu to Syabrubesi (one way) is USD 10 to USD 15 per person.
Private Jeeps
Jeeps are bumpy. However, if you still want to go in a jeep, you can. A jeep ride from Kathmandu to Syabrubesi (one way) costs USD 8 to USD 10 per person. In a private jeep, you don't ride alone. You drive along with a group of 7 to 8 people.
How Much Cost will Add if I Hire a Guide and a Porter on Langtang trek?
Going with a guide and porter is always beneficial if you consider your safety and ease. However, if you are on a budget trek, Langtang trek route is absolutely doable alone. In fact, there are many solo trekkers going to Langtang every year.
However, hiring a guide has its own perks. A licensed guide charges you USD20 to USD 25 per day. This amount excludes the cost of his food and accommodation. You have to pay separately for that too.
If you think hiring a guide is too expensive, carry a trip map and hire a porter. Hiring porter is cost-efficient. Also, you will have a pleasing walk without any loads on your back. The per day cost of a porter is US$ 15 to USD 20. You should also pay for his or her food and accommodation during the trekking period.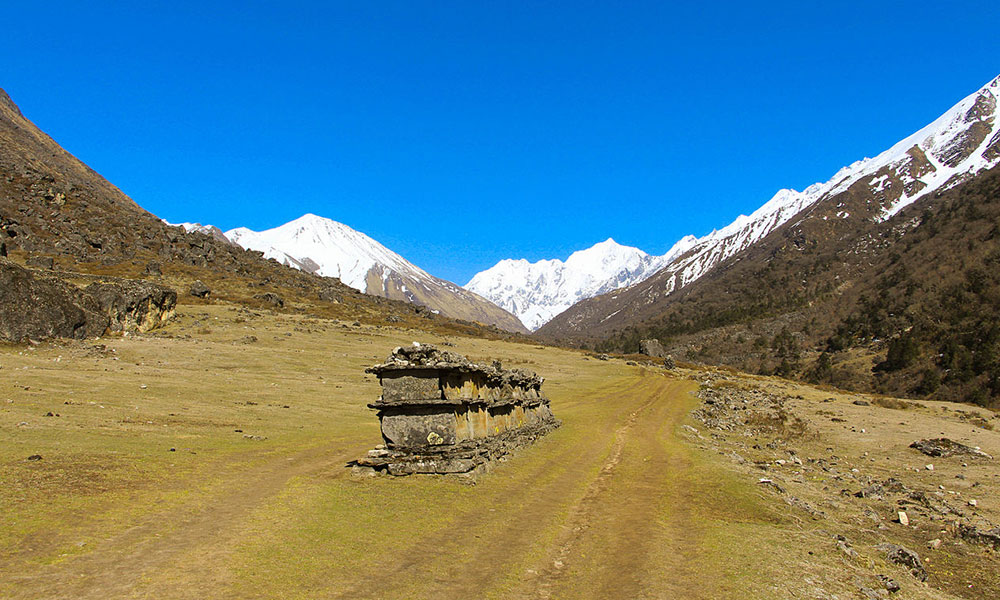 Miscellaneous Costs on Langtang Valley Trek
During treks, you cannot exactly estimate before how much it will cost you. Despite the above-mentioned things, there can be cases when you spend some extra money. Some of them are:
Souvenirs
While returning from the trek, you might want to buy some souvenirs for friends, families, and loved ones. The local vendors in Langtang sell locally made goods like bags, purses, dried fruits, gems, pieces of jewellery, and many others.
Tipping
You might want to tip at hotels, teahouses, cafes, and several other places if you love their hospitality and services. Your guides and porters also expect some additional amount from you as tips at the end of the trek.
Donations
Walking across the villages, monasteries, and schools, some trekkers want to donate a certain amount. They donate money for the betterment of the place. Sometimes, they simply do it as help.
Looking for Ways to Reduce Langtang Trek Cost?
Do you feel like you want to cut in the Langtang trek cost? If yes, you look at some of the tips that we suggest. Hope these are helpful.
Carry a Power Bank. This will save your cost of charging your mobile phones. You can also carry solar power chargers.
Avoid carrying unnecessary things. Do not spend money on buying unnecessary trekking gears. If you have a lightweight load, you can go without a porter. This will save the cost of hiring one.
Carry your own snacks. They are very expensive on the trail.
Carry a refillable water bottle. (preferably with filter) Also, bring water purifying tablets. This will save the cost of buying drinking water.
Carrying teabags and a hot water bottle might also help. Buying hot water is cheaper than buying tea.
At some stores in Thamel, you can rent trekking gears. If you want to save money on buying the gears that will barely come in use after the trek, rent them.
Final Say,
"When there is a will, there is a way." If you want to go on Langtang trek, you should start to plan and prepare for your trek from now. Make your mind, arrange the money, and book a flight to Nepal. Aren't you excited?
Come, trek with Adventure Bound Nepal. We are a trustworthy trekking agency in Nepal. We have been organizing safe and memorable treks in different parts of Nepal for many years.
Note: For those who are looking for luxurious tour to visit Langtang region, we have Langtang Helicopter tour. Interested people can book the tour. Feel free to Contact us for any queries.