Langtang Gosainkunda Trek is a combination of remote Langtang Valley and the high magnificent mountains, glaciers, and lakes at Gosaikunda. The trek is just 140 kilometres north from Kathmandu and is accessible to everyone. Langtang Gosaikunda Trek is mostly popular for the scenery it offers to give you a chance to explore the hospitality and ethnic culture of the people living in the Langtang region.
Discovering the Tibetan culture, you will feel yourself surrounded by different monasteries, Tamang villages, and Tibetan mountains. One of the major attractions of the Langtang Gosaikunda trek is visiting the Langtang National Park. It is the place where you will get to explore a great variety of wild flora and fauna. Walking along the rhododendron forest along with the magnificent views of Langtang Himalayas, you will have a wonderful trekking experience.
The route to Gosaikunda lake is beautiful and adventurous. The lake Gosaikunda sits at an altitude of 4360 meters which is surrounded by mountains on all sides. The lake is visited by thousands of devotees during the full moon of May and August. Walking along the Gosaikunda lakes and viewing sunrise and sunset over the mountains from Gosaikunda is a unique and breathtaking moment you will ever have.
Adventure Bound Nepal will help you to organize your trip to Langtang Gosainkunda. Join us at Adventure bound Nepal if you want to have an unforgettable Langtang Gosaikunda Trek. We can arrange your itinerary as per your choice and preference if you want to.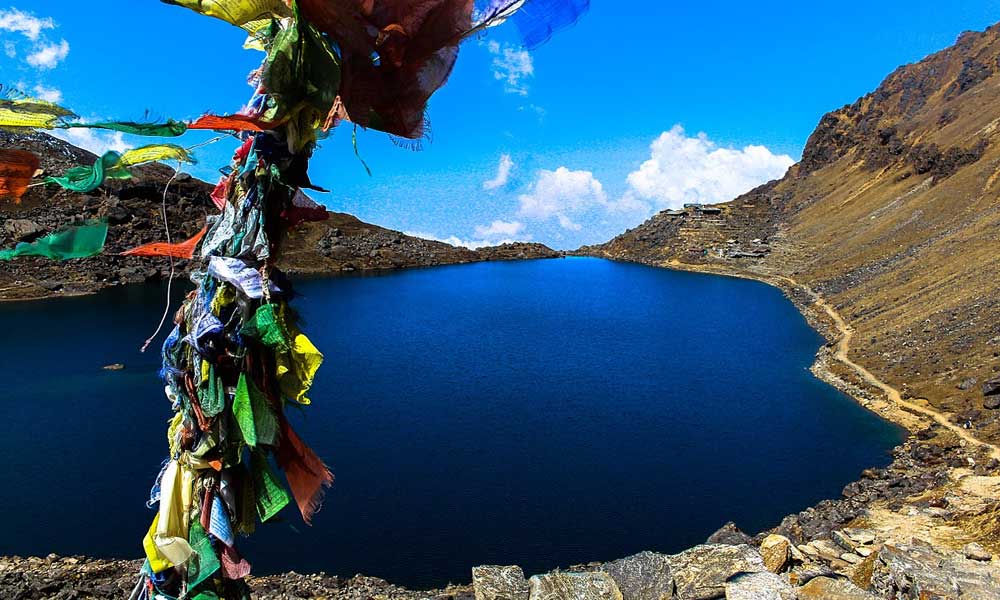 Trip Highlights of Langtang Gosainkunda Trek
Visiting Tibetan villages in the Langtang region.
Walking through different monasteries, Tamang settlements, glaciers and lakes.
Exploring mountains such as Langtang Ri, Ganesh Himal, Ascent Chorkari Ri and many other peaks which are above 6000 meters.
Walking along the Langtang National Park where you can witness some of the beautiful flora and fauna.
Crossing the Lauribinayak pass, Luribina La pass, Tharepati La pass along the way to Gosaikunda Lake.
Exploring the spectacular Gosaikunda Lake itself.+
Langtang Gosaikunda Trek Outline Itinerary
Day 01: Arrival at Kathmandu Airport and transfer to the hotel.
Day 02: Drive to Syabrubesi (1550m), nearly 9 Hours drive.
Day 03: Trek to Lama Hotel (2380m).
Day 04: Trek to Langtang valley (3500m).
Day 05 :Trek to Kayangijin Gompa (3900m).
Day 06: Explore around Kayangijin.
Day 07: Trek to Lama Hotel (2380m).
Day 08: Trek to Thulo Syabrubesi (2200m).
Day 09: Trek to Sing Gompa (3580m).
Day 10: Trek to Gosaikunda (4381m).
Day 11: Cross over the Lauribina Pass (4600m) descends Thare Pati (3600m).
Day 12: Trek Kutmsang.
Day 13: Trek to Chisapani.
Day 14: Trek to Sundarijal and drive Back to Kathmandu.
Day 15: Depart to your next destination.
Best Time for Langtang Gosaikunda Trek
Like the other treks in Nepal, Spring and Autumn are the best time for Langtang Gosainkunda Trek too. Spring falls in the month of March April and May whereas Autumn falls in the month of September, October, and November in Nepal.
Spring (March, April, May)
Spring is the pre-monsoon period in Nepal that comes after the winter season. It is the time nature regenerates its lost beauty. During Spring, the natural beauty of Langtang reaches to its maximum. You will see various new plants and trees growing along the way to Langtang Gosainkunda trek.
During Spring the weather of Langtang region becomes fresh and clear. You will have great visibility of the mountain ranges along the trails. It is the time when the national flower of Nepal, Rhododendron blooms. You can smell its fresh fragrance as you are walking.
Overall, Spring has been Trekkers favourite from all around the world. The daytime temperature of Langtang Gosaikunda ranges between 10-20 degrees during Spring. It offers you with suitable weather for trekking. However, you might expect some rainfall during late May. So, be prepared for it as well.
Autumn (September, October, November)
Autumn is the most popular time for Langtang Gosainkunda trek. It is also known as the season. The weather and skies remain usually clear during Autumn. It is one of the perfect times to capture the Himalayas of Langtang in your camera. The weather is neither too hot nor too cold with fresh air blowing as you trek to Langtang Gosainkunda.
During Autumn, the daytime temperature ranges between 10-15 degrees in the Langtang region. The weather is quite bearable and suitable for trekking. Autumn is also the time of festivals in Nepal. So, it is also known as the festive season. The major festivals of Nepal such as Dashain and Tihar fall during this month. So, you can engage yourself at such festivals if you want to.
Autumn provides you with clear skies and clearer views of the mountain ranges and overall scenic beauty. During this time, you may expect of rainfall. During early September, you can see yourself getting wet in the rain. So, be prepared with all the required trekking gear.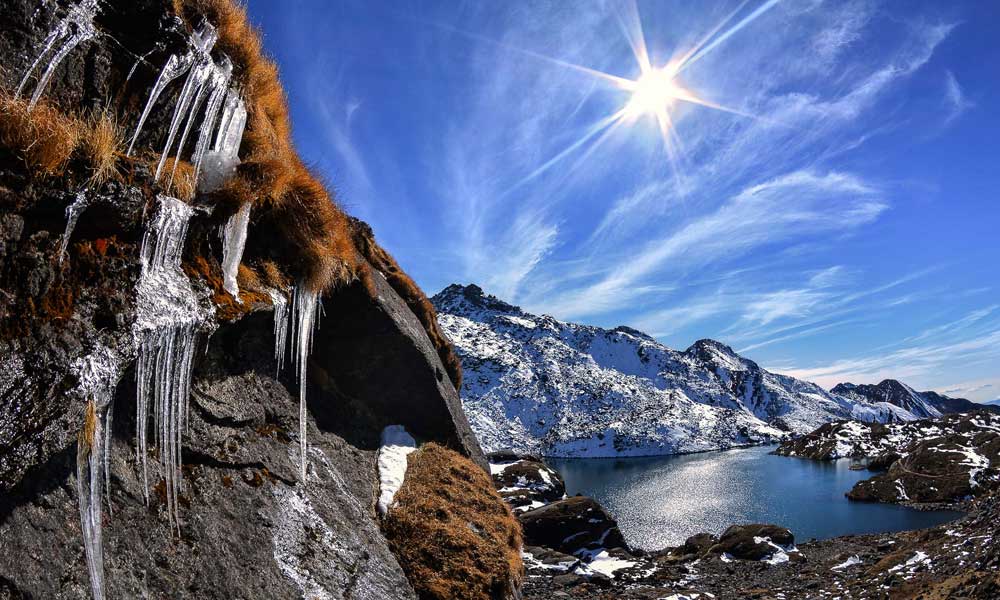 Offseason Trek to Langtang Gosainkunda
Offseason trek is the least preferred time when it comes to trekking. There are many pros and cons of trekking during off seasons. Winter and Monsoon are generally some of the times where you will notice only a few numbers of trekkers in the trails.
However, Langtang Gosainkunda Trek is doable in all season with appropriate trekking gears.
Langtang Gosainkunda Trek in Winter
Winter falls in the month of December, January, and February in Nepal. The reason behind a smaller number of trekkers in winter is because of the extreme cold weather and temperature of the Langtang region. During winter, the daytime temperature of Langtang ranges between 2-6 degrees. The nighttime temperature might even fall to minus degrees.
From late January onwards, the region faces snowfall in the higher elevations. Walking along the snow-clad mountains will be exciting and adventurous. Winter trek is best suitable for the ones who want to have a peaceful trekking experience.
Langtang Gosainkunda Trek in Monsoon
June, July, and August fall in monsoon season in Nepal. During monsoon, the Langtang region reaches its maximum temperature. The daytime temperature of Langtang region ranges between 20-30 degrees.
The reason monsoon hasn't gained a lot of popularity like Spring and Autumn is because of the frequent rainfall the season showers. Rains tend to make the trekking trails wet and slippery. However, the mornings after rainfall look beautiful than ever. The skies become clear and you will be surrounded by greenery all around. So, trekking to Langtang Gosainkunda during monsoon can be an option if you carry appropriate trekking gears with you.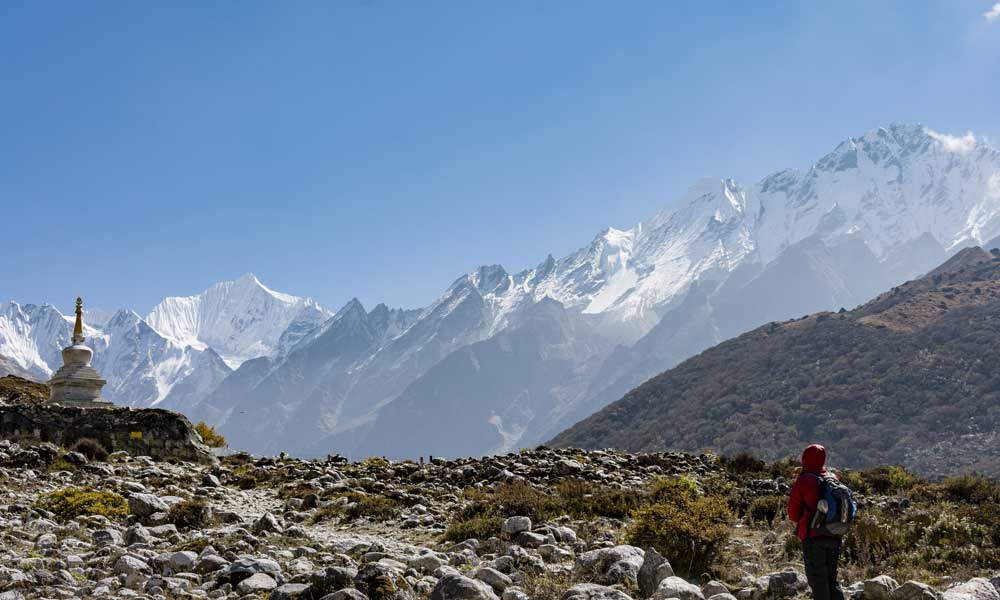 Langtang Gosaikunda Trek Difficulty
Langtang Gosaikunda Trek is a moderate level trekking destination in Nepal whose difficulty level depends upon various factors. Such factors include the weather and temperature of the trek, experienced or beginner trekker, duration and altitude of the trek, etc.
Distance and Duration of Trek
Langtang Gosaikunda Trek is about 117 kilometres and you will have to walk around 35 kilometres through bumpy roads from Trisuli to Dhunche. You will be walking through uphills and downhills starting your trek from 2000 meters at Dunche and reaching up to the height of 4380 meters at Gosaikunda.
In your Langtang Gosaikunda Trek, you will have to walk for around 6-7 hours a day. Walking continuously for such hours may be very tiring and causes a lot of pressure on your feet. But this trek may not be tough as it does not require any ice climbing and physical climbing.
Altitude Sickness
The highest point of Langtang Gosaikunda trek is at 4380 meters at Gosaikunda. Altitude sickness is a common problem when you trek above the height of 3000 meters. When you trek to a higher altitude, the amount of oxygen present in the air becomes comparatively less which will cause you difficulty in breathing. Some of the symptoms of Altitude Sickness are headache, fever, nausea, and vomiting. If you find yourself getting into any such problems, you should immediately descend to a lower height.
Weather and temperature
Weather and temperature play a significant role in determining the difficulty level of the trek. Many trekkers prefer trekking in Autumn and Spring seasons over winter and monsoon. It is because autumn and spring provide trekker with favourable weather and temperature.
Trekking to Langtang Gosaikunda during winter and monsoon becomes quite challenging. Walking along the trails covered snow might be quite tricky especially if you are a beginner. Likewise, during monsoon, you will have to walk through the muddy trails where you will have a high chance of slipping if you do not tread carefully.
Type of Trekker
Langtang Gosaikunda Trek also depends upon the kind of trekker trekking to the Langtang region. Many experienced trekkers felt quite easy while trekking to Langtang Gosaikunda. But beginner trekkers had some difficulty while hiking especially in the higher altitude.
So, for a beginner as well as an experienced trekker, it is better to be physically and mentally prepared. Start preparing for some physical exercises three weeks before your trek. You can engage in activities such as swimming, running or cycling.
Langtang Gosaikunda Trek with or Without a Guide
Langtang Gosaikunda Trek is also possible without a guide. The routes are quite simple, and you may not have any difficulty in reaching your destination alone. When you trek during the peak season, you can always have a company of other trekkers along the same. So, you may not be bored or face any problems while trekking to Langtang Gosaikunda even without a guide.
But it is always better to have someone assisting you throughout your trek and someone who has a knowledge of Nepali language. Hiring a guide is an advantage as you can always have someone who will be there during emergencies. They will even help you to find the best hotels and lodges for your comfortable stay.
You will find a lot of benefits of hiring a porter too. A porter will carry baggage for you which will make you very easier while trekking. You will not have a lot of pressure on your back and you can walk comfortably without getting tired.
So, if you quite a friendly budget, you can always hire both the guide and porter while trekking. Guides will cost you around 20-25 dollars a day whereas porter will charge you 10-15 dollars a day. The choice is yours if you want to trek independently or with the help of a guide.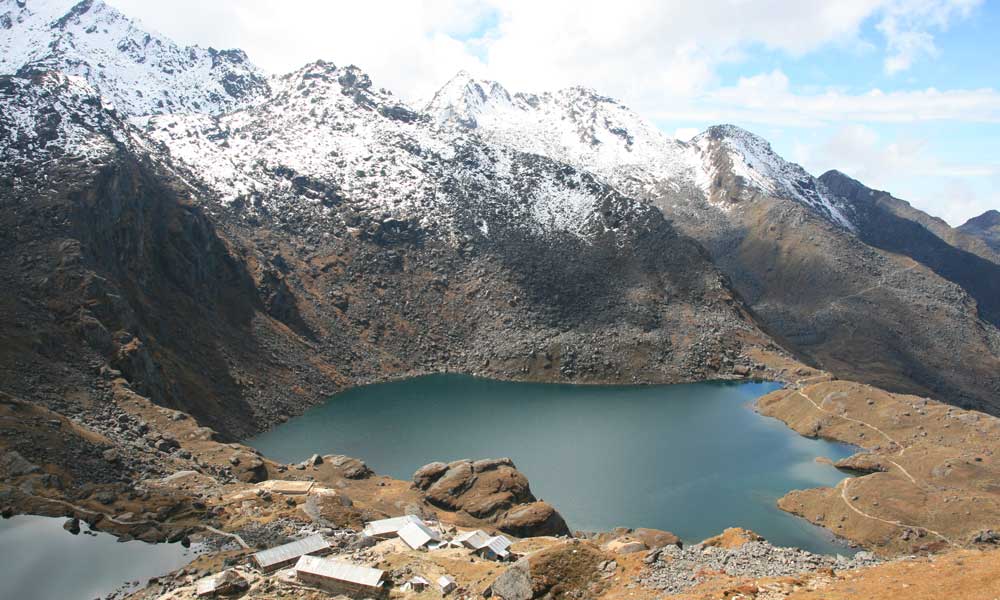 Langtang Gosaikunda Helicopter Tour
Langtang Gosaikunda Helicopter Tour is a short tour starting from Kathmandu and taking you to the holy Gosaikunda Lake. it will take you around 20 minutes to reach Gosaikunda from Kathmandu. Langtang Helicopter Tour will give you a chance to explore the beautiful Langtang region along with Gokyo lake which is surrounded by snow clad Himalayan ranges.
Some of the highlights of Langtang Gosaikunda Lake are Laurebina La Pass, Kyanjin Gompa and Langtang village. You will get a chance to witness some of the most significant mountain ranges such as Langtang range, Tibetan range, Mansiri range, Ganesh Himal, Mount Manaslu and many others. You will have a great view of Gonzalez Kunda lake which is one of the holy lakes in Nepal that sits in Langtang National Park itself.
Langtang Gosaikunda Helicopter Tour will take you around 90 minutes to complete the whole tour. Within this short period, you will get a chance to explore the beauty Langtang region holds. This scenic helicopter tour to Langtang Gosaikunda will give you a lifetime of experience.
Conclusion
Langtang Gosaikunda may not be as popular as Everest and Annapurna region trekking but it has gained a lot of popularity and will give you one of the best ways to explore the Himalayas. Langtang region consists of a lot of attractions that deserve our attention. You do not have to worry about the difficulties you might face. Challenges will only make your trip even more exciting. Along with this, by following specific tips and tricks such as carrying appropriate trekking gears, strolling, hydrating, engaging in physical exercises etc. will help you to make your trek less difficult.
Adventure Bound Nepal is a travel company and will provide you with high-quality services. You can view the detailed itinerary of you Langtang Gosaikunda Trek on our official website. We can arrange your trip according to your choice as well. Feel free to Contact Us at Adventure Bound Nepal if you have any questions.