Helambu is a popular trekking destination in the Langtang region of Nepal that lies to the north of Kathmandu. Helambu is an elegantly beautiful area to explore and experience the cultural aspects of the region. Helambu trek is an ideal choice for the short time enthusiastic trekkers that can be easily completed within 5 days. So for the ones who have a busy schedule, this trek might be best for you.
5 days Helambu trek will offer with unique Sherpa culture along with some of the closest views of the mountains such as Dorje Lakpa Jugal Himal, Langtang Lirung and other several Himalayas. This trek will take you through some of the rivers, waterfalls, glaciers, and meadows of the region. You will also get a chance to visit the Langtang National Park where you get to encounter some of the rare species of plants and animals.
Helambu trek covers a distance of 70 kilometers from the Kathmandu Valley. Your trip to Helambu starts from a short drive from Kathmandu to Sundarijal. You will walk through the Shivapuri watershed and conservation area following the way to Chisapani. You will walk through different villages such as Kutumsang, Melamchi Gau, Tarkeghyang and Timbu. Throughout the trek, you will get to experience the typical village life. The trek will take you through the lower elevation areas so you may not have to face any attitude problem.
Our company, Adventure Bound Nepal will organize your trip if you are looking for an incredible short trek experience. The 5 days Helambu trek package would be best for you but, we can customize your trip if you want to. Join us at Adventure Bound Nepal for a unique, short trekking experience.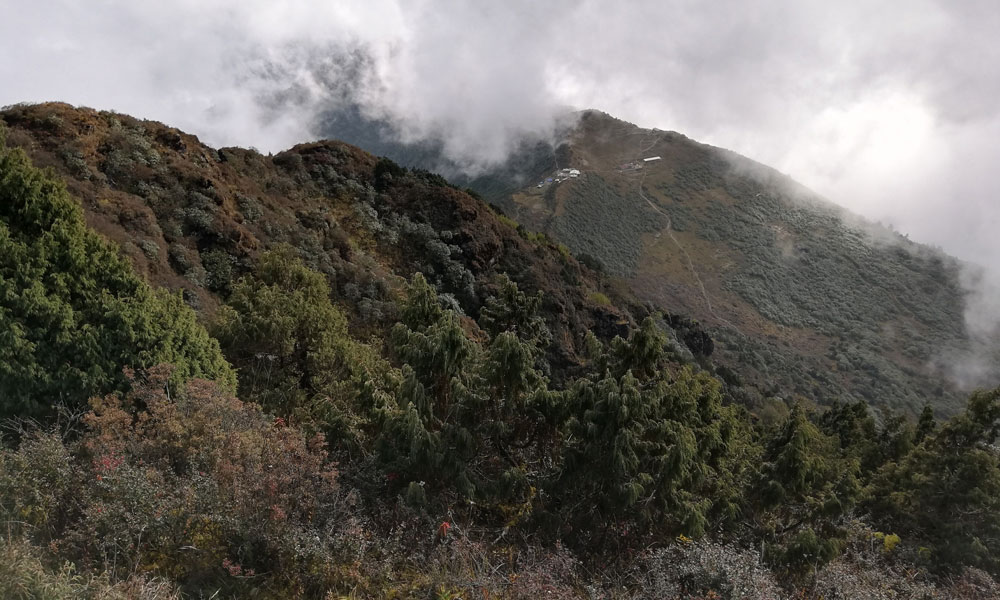 Some of the Highlights of Helambu Trek 5 days
Short and easy trek near the Kathmandu Valley.
Exploring Tarke Ghyang monastery which the largest monastery in the Helambu region.
Incredible views of the mountains such as Langtang Ri, Ganesh Himal, Dorje Lakpa Jugal Himal and many other peaks that are above 6000 meters.
Walking through some of the beautiful villages and exploring the Sherpa culture.
Crossing the Tharepati Pass which is the highest point of the Helambu trek.
Do not hesitate to contact us at Adventure Bound Nepal if you have any queries regarding your trip.
Helambu Trek 5 days Itinerary
Day 01: The drive from Kathmandu to Sundarijal and then walk uphill to Chisopani.
Highest Altitude: 1350 meters
Driving duration: 1-2 hours
Day 02: The trek from Chisopani to Kutumsang
Highest altitude: 2446 meters
Trekking Duration: 7 hours
Day 03: The trek from Kutumsang to Tharepati Pass
Highest Altitude: 5650 meters
Trekking Duration: 5-6 hours
Day 04: The trek from Tharepati to Tarkeghyang (2743m.) via Melamchi Gaon (2640m)
Highest Altitude: 2743 meters
Trekking Duration: 5-6 hours
Day 05: The trek from Tarkeghyang to Timbu and drive from Timbu to Kathmandu
Trekking Duration: 2-3 hours
Driving Duration: about 5 hours
Best time for Helambu Trek 5 Days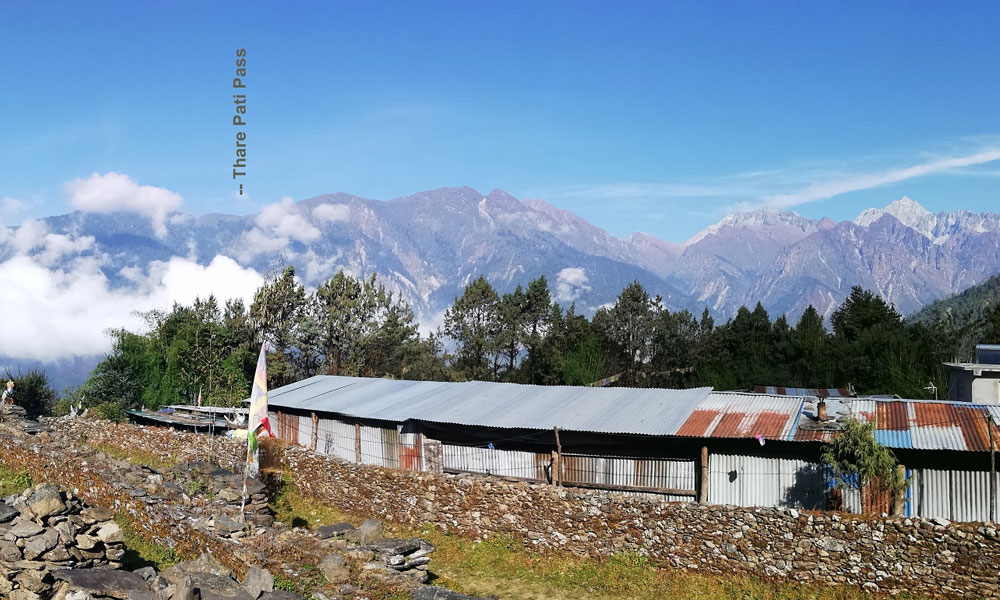 Helambu trek is doable in every season but there is some best time of the year that are most suitable for Helambu trekking. They are Autumn, Spring, and Winter. These seasons are one of the most popular time for Langtang trekking and have been favorite among most of the trekkers all around the world.
Autumn
Autumn falls in the month of September, October, and November in Nepal. It is one of the best times of the year for Helambu trek as it offers suitable weather and temperature for trekking. The skies are usually clear during this season due to which you will have clear visibility of the mountains as well as the natural beauty.
The mornings and night may be a bit chilly but the day time temperature of Helambu is usually warm. The temperature ranges between 10-15 degrees. Most of the trekkers prefer Autumn season as the weather is neither too hot nor too cold in the Helambu region which is suitable for trekking.
Autumn is one of the peak times for Helambu treks. So, you may see many trekkers following the same route to Helambu. So you may not have to feel monotonous as you trek to Helambu.
Spring
Spring is the second-best time of the year for Helambu treks. It falls in the month of March, April, and May. During these months, nature regains its natural beauty which as lost during the cold winter. So during this time, you can see many flowers blooming. You can see forest covered with rhododendron on the trails to Helambu.
During Spring, the weather and temperature of the Helambu region range between 10- 20 degrees. The temperature is moderate so you will have an easy trek to Helambu. You may get to witness a wide variety of flora and fauna during spring.
The snow-covered Langtang peaks look magnificent during Spring season. Along with the mountains, the waterfalls, springs, landscapes of Helambu look amazing. Spring is one of the most beautiful times for Helambu trek. So if you want to explore the natural beauty of the Helambu region at its maximum, trekking during Spring would be best.
Winter
Unlike other treks, Helambu trek is doable in winter as well. Winter falls in the month of December, January, and February. The weather and temperature of Helambu may not be too cold even during winter. The daytime temperature of Helambu during winter may range between 8-13 degrees.
Since you do not have to trek through high altitudes during Helambu trek, you should not worry about the trails getting covered with snow. You may not have to face any harsh weather conditions as the daytime temperature may be warm.
During winter, the snow-clad Langtang ranges look breathtaking. During this time, you may not see many trekkers trekking to Helambu. So, winter is the best time for the ones who want to enjoy the Helambu trek in solitude.
Do not hesitate to contact us at Adventure Bound Nepal if you have any queries regarding your trip.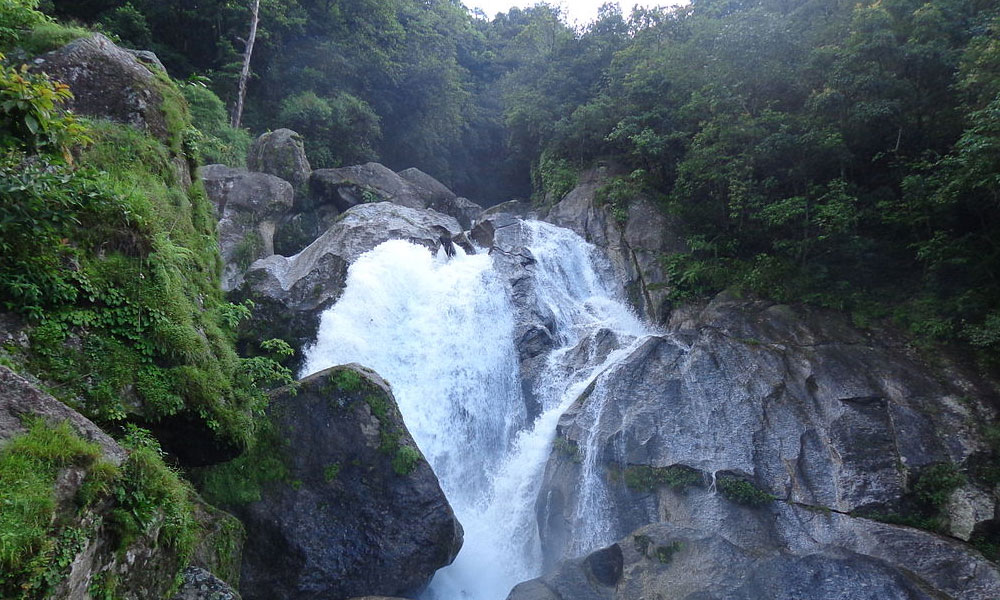 5 days Helambu Trek Difficulty
5 days Helambu trek is an easy trekking destination in Nepal that can be achieved by anyone who has an average physical fitness. The total trek covers a distance of 70 kilometers. So, within 5 days you might have to walk for about 5-6 hours a day to reach your destination.
Helambu trek is not a very difficult trek. However, you may have to climb uphill and downhill over the valley to the east that involves long day uphill and then downhill to a steep section to the last village via Melamchi Pul.
The difficulty level of the Helambu trek also depends upon the type of trekker you are. If you are someone who is not used to trekking at all, this trek might be quite challenging for you. But, if you are someone who is used o trekking, Helambu Trek can be easily achievable.
Helambu trekking trails will take you through lower elevations ranging between 800 meters to 3600 meters. The highest point of the trek is Tharepani Pass which sits at an altitude of 3650 meters. At such height, you may not have to face the problem of altitude sickness like the other treks.
5 days Helambu trek might be difficult for the ones suffering from back or knee problems. So, it is always better to do some physical exercises such as walking, cycling or swimming before your Helambu trek.
Hiring a Guide and a Porter to 5 days Helambu trek
It is not compulsory that you must hire a Guide and a porter in Helambu trek. But, it is advisable that it would be a lot easier if you hire them.
Guides are someone who will assist you throughout your journey. They will motivate to keep pushing you further to reach your destination. You will get to learn a lot from a particular community when you hire a guide. They will help you to interact with the local villagers such as Sherpas of the Helambu region. You can always expect more when you hire a guide for Helambu Trek.
Similarly, carrying your bags continuously for hours might be quite tiring. So it would be better if you hire a porter. Porter will help you carry your bags up to 10-15 kgs. So, together with guide and porter, your Helambu trek will be a lot easy and comfortable. They will charge you around 30-40 dollars per day for their service.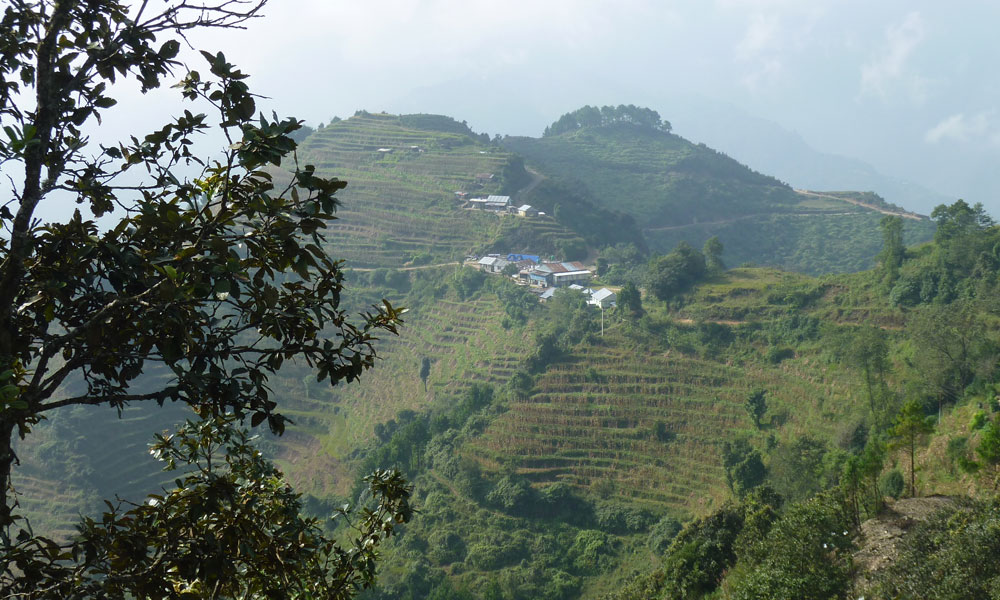 Type of Food and Accommodation during 5 days Helambu Trek
Food
You may not have to face the problem of food scarcity during Helambu trek. There are plenty of teahouses and lodges along the way to Helambu. Such teahouses and restaurants will provide you variety of cuisines, from national to international.
You will be served with proper breakfast such as tea/ coffee along with boiled egg, bread, pancakes and any other items you wish to have. For dinner, you will be served with typical Nepali food which is Dal Bhat and Tarkari. It comes with a set which includes, rice, vegetable curry, meat, and tomato pickle. This will provide you enough energy for your trek.
Along with the national food items, you can expect some international cuisines as well such as pizza, burger, noodles, momo, sandwiches, pasta and many more. You will have options in beverages such as tea, coffee, chocolate shake, lemon water, mineral water, and many other alcoholic beverages too.
Accommodation
You will be provided with proper accommodation facilities in the Helambu trek. The teahouses and lodges of the Helambu region will make to make your stay comfortable. They will provide you with two shared beds, mattress, sheets, pillow, and a blanket to keep you warm.
You will have an attached bathroom and a shower. You will have a pay an extra charge for hot showers and electricity. It is better to bring your own toiletries such as toilet papers, shampoo, soaps, cotton towel, etc as the teahouses may not provide you with such facilities.
Cost of Helambu Trek 5 days
The cost of Helambu trek depends upon various factors such as travel packages, cost of food and accommodation you wish to choose, miscellaneous expenses, cost of guides and porter.
The cost of travel packages for Helambu trek ranges from 500- 600 USD. this cost includes your transportation fee, food, and accommodation, entry permits, TIMS card,. However, the cost does not include your personal expenses on food, alcoholic beverages, luxury accommodation and other.
Along with this, you will have to pay an extra cost if you wish to hire a guide and a porter. The guide will normally charge you 20-25 dollars a day whereas, porters will charge you around 15-20 dollars.
Buying trekking gears for Helambu trek might cost you more. But, you have all the equipment already, you may save your money.
Conclusion
Overall, Helambu trek 5 days is a simple and short trek mostly suitable for people who are new to trekking. This trek may not be very challenging as it involves lower elevation destinations. So, this trek can be done with your family and children as well.
Solo trek to Helambu is also possible. But, it is always better to travel in a group as you have to be more careful when trekking alone.
Book your trip to 5 days Helambu Trek with Adventure Bound Nepal. We will provide you with proper guidelines and facilities regarding your trip. Do not hesitate to contact us at Adventure Bound Nepal if you have any queries regarding your trip. We will be happy to serve our customers.